How to Build the Weilandfilm Theatrical Poster Lightbox
So — you have a two-sided, theatrical movie poster and you want to showcase it, right? Well, I once faced the same problem. The following pages will familiarize you with the solution I employed: designing and constructing my own backlit, theatrical poster lightbox.
In The Beginning…
A good film is medicine for the soul. If you find that you're over-enthusiastic about feature films, home theater technology and the media associated with both, then you'll most likely find this project to your liking.
After years of mindlessly collecting posters, it was the jaw-dropping beauty of the lighted poster box display that took the presentation of my posters to another level. Since 1990, I have nurtured a modest interest in home theater technology and managed to assemble a respectable armada of audio/video equipment with a hull-full of software munitions. Replicating the theater experience at home simply relaxes me and often swells into a passion that few people can comprehend.
Enter poster presentation. Rarely are theatrical posters NOT seen garnishing the walls of a home theater. Theatrical one-sheets add atmosphere and beauty to the at-home, film experience. But rarely do you see a backlit two-sided poster ablaze at home. Needless to say, I was very interested in adding such a theater-style, lighted poster box to my layout and showcasing one-sheets of my favorite films.
Two-Sided (Double-Sided) Posters: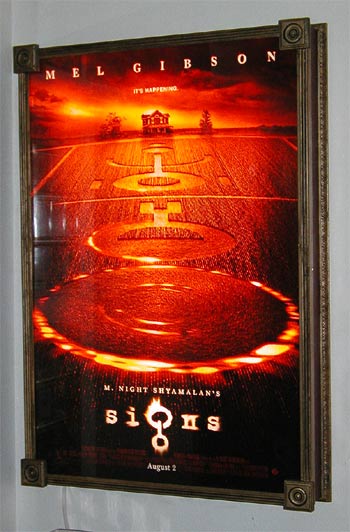 Most people are familiar with everyday posters that are printed on only one side. The back side is usually white. However, posters intended for display in backlit poster boxes are actually printed on both sides. Think of it as strip of film. Light from behind the one-sheet passes through both inkings and renders a more robust and rich illumination of the poster art. That's not to say that single-sided posters aren't used in lightboxes. It's just that one-sided one-sheets look bland and washed-out when illuminated from behind.
Though I certainly don't have hard facts to back up the following comments, it is common understanding that two-sided theatrical posters weren't commonplace until sometime in the mid-1980's. That unfortunately means that most of the movie gems prior to that time have never had a two-sided one-sheet associated with them. That being said, the trend of re-releasing old films to the theater circuit has definitely provided opportunities to have such two-sided posters made (e.g. Star Wars: The Special Edition, et al.)
As for finding two-sided posters, it can be both fun and difficult. New releases seem to be fairly easy to find via on-line poster shops. And as always, e-Bay is always an alternative for both old and new posters. But as time passes, it gets harder and harder to find that near-mint, two-sided poster of your favorite film.
That All Makes Sense, But Why Not Simply Purchase A Poster Lightbox?
If two-sided posters and ornate poster lightboxes look so cool, then why not simply buy one?
That's a good question. Here's a better answer: they are expensive. Of the lightboxes that I've stumbled upon, the cheapest ones dipped only into the $400 range. The next cheapest, in the upper $700's.
Another reason? I designed my own was because my on-line search revealed that most lightboxes were simply functional. They lacked form and beauty. If you like the shiny, characterless look of machined aluminum or flat black strips framing your poster — then maybe they'd fit your requirements. I wanted something rich and Victorian-looking combined with a generous dash of ornate trim with a rustic, antique look. Therefore, building my own poster lightbox became a reality rather early.
In The End…
After all the planning, research, grumbling, material acquisition, headaches, MISTAKES and re-engineering, I finally have a lightbox that I'm proud to incorporate into my home theater.
If you find yourself in this same situation, hopefully this workshop will be beneficial to you.
Before you dive into the details, please acquaint yourself with the Terms Of Use section on this page. Although I offer this information freely, I cannot be held liable for any damages resulting from the implementation of this design. You'll find those conditions there.
So without delay, let's dive into the design and how-to behind the Weilandfilm Theatrical Poster Lightbox.
Frustrated by expensive display solutions?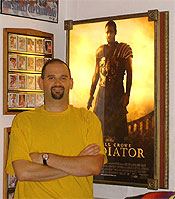 Are you a collector of two-sided, theatrical posters? Are you tired of not being able to fully utilize the two-sided nature of your posters?
If so, don't shell out big bucks to showcase your theatrical one-sheets. Building one like mine (seen above) isn't all that difficult, and it'll cost you around $220 (US Dollars.)
For a better look, click on the image to enlarge or choose a section above to begin this workshop.
Terms of Use:
I know how frustrating it was to find information on crafting a poster lightbox. I hope this workshop helps other home theater enthusiasts showcase their theatrical one-sheets with theater-lobby flair.
Please feel free to link to or publish this URL. You may also print out these pages for any noncommercial, personal use. Otherwise, the contents of these pages cannot be duplicated anywhere for any other reason without the expressed written consent of myself, Ed Weiland.
This lightbox project is intended as a leisure exercise for home theater enthusiasts who want to take the decor of their viewing room to another level. I do not declare myself to be a licensed electrician, carpenter or any other professional tradesman.
By using the information and instructions on this and ensuing pages, you acknowledge that you do so via your own freewill and willingly relinquish Ed Weiland from any liability associated with the construction of the lightbox depicted herein.
With the formalities out of the way, I wish you the best of luck in your lightbox endeavor. You won't be disappointed. Trust me.
Ed